On 29 August European co-operation for Accreditaton organized in Paris-Roissy a training course on Carbon Offsetting and Reduction Scheme for International Aviation (CORSIA), the first global market-based measure scheme developed by the International Civil Aviation Organization (ICAO).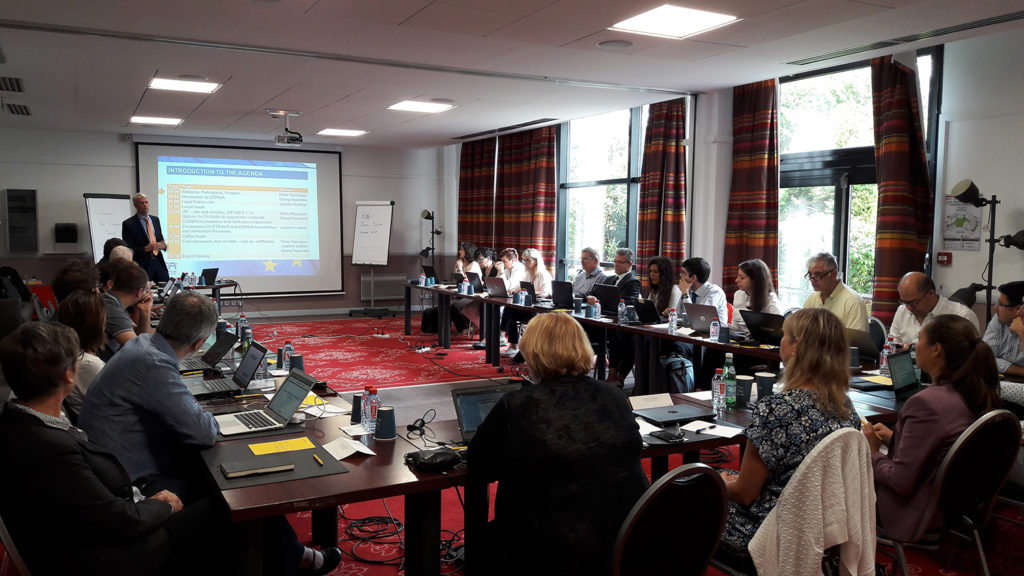 Preventing climate change is a key priority for the European Union. Europe is working hard to cut its greenhouse gas emissions substantially while encouraging other nations and regions to do likewise. By 2050, the EU aims to cut its emissions substantially – by 80-95% compared to 1990 levels as part of the efforts required by developed countries as a group.
A robust policy is therefore managed by the European Union and ICAO to achieve carbon neutral growth from 2020 as well as the adoption of a first CO² standard for aircraft. To achieve this aspirational goal and determine the baseline emissions of the scheme, aeroplane operators will be monitoring their emissions from 2019 onwards with the first verification of an emission report taking place in early 2020.
The objectives of the training co-convened by Peter Hissnauer (DAkkS, Germany), as well as Georg Naumann and Joachim Leitner (German Emissions Trading Authority -DEHSt), were to:
compare EU ETS Accreditation and Verification Regulation with CORSIA Verification Provisions;
discuss how EA and its Members may support the worldwide CORSIA Accreditation and Verification Framework.
"Our training objectives have been successfully met and the discussions on the legal framework and the comparison between EU ETS AVR and CORSIA Accreditation and Verification Provisions were very rich and helpful for delegates, who have outlined the importance of participating in this kind of training. We also want to thank the EA Secretariat for the support in the organization of this event", said Peter Hissnauer
With 27 participants from 18 EA Members, the training was unanimously appreciated. The participants received many useful information, developing common awareness on issues or concerns, giving them the opportunity to improve their knowledge on CORSIA. One participant expressed her satisfaction: "the issues presented and discussed during the training session were well focused on the most significant elements of the ICAO CORSIA scheme. Moreover, several points of debate were thoroughly explained.". All the participants agreed on that fact that the trainers "did a great job", "being very knowledgeable", and "creating a friendly atmosphere".